Oscar de las Flores a Vision of Hell on Earth
Oscar de las Flores is an El Salvadorian artist whose primary medium is pen and ink on paper. His work expressively uses what in polite company might be thought of as "grotesque imagery" in order to convey humanity's worst inclinations and dark impulsive beauty. His drawings are thoroughly layered and dense; appearing as claustrophobic fever dreams. One is easily reminded of Dante's description of hell, where humans go after capitulating to their basest animal appetites, at the expense of both themselves and everyone else.
Crafting a Vision of Humanity's Struggle
We see the pain and struggle of Salvadorian humanity compressed into a four by five foot framed work of art, astounding like a train wreck, and troubling like a specter of disaster. It is impossible to remain neutral, his work is confrontive and overpowering. It is an insiders view into the battles waged by citizen against citizen and politicians against their constituencies. Flores work is an explication of how greed is connected to survival and how survival is connected to conflicting moralities. "Republica de El Presidente" is a visual riot of human need expressed as untamed and unregulated urges. And not an inch of space is wasted. He is unrelenting and fanatical in making his point. If his art could be expressed as a sound, it would be a cacophony.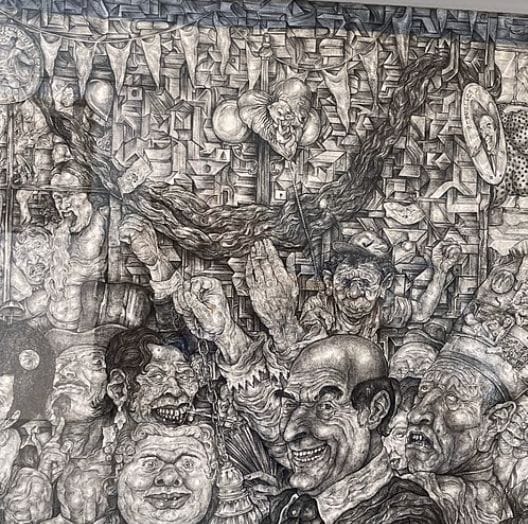 Even through its grotesqueness there is an expression of beauty. He is an absolute master of his craft. Within the chaos, and frenetic explosion of angst in his work, there is always imagistic balance and skillful rendering. Joyce Carol Oats said, "Art should provoke, disturb, arouse our emotions, expand our sympathies in directions we may not anticipate and may not even wish." Oscar de las Flores wants you to feel something. He wants to make a difference. He is not intense for intensities sake. He offers you an invitation to take a journey with him and perhaps, change your mind.
What He Says About His Own Work
Oscar de las Flores describes his work: "I, like Orozco, Goya or Kollwitz believe in the need to directly portray that which is inhuman and immoral in society as well as that which is compassionate and true in order to wake in all of us a sense or urgency at attending humanities' most pressing needs in a time when greed and rapacious hatred becomes ever more predominant"
Oscar de las Flores was born in El Salvador in 1974 and personally experienced the civil war. He currently resides in Oaxaca Mexico. He was educated at Skowhegan School of Painting and Sculpture in 2005, The Ontario College of Art and Design in 1997, and the W. Jeffery's Collegiate Institute, special art program from 1989-1993. His highest auction record was for $7,000.
Up For Auction July 24th 2020
Title: "Republica de El Presidente"
Medium: Ink on paper.
Size: 50in. x 80in.
Framed Size: 54in. x 84in.
Estimate: $2000-3000
Fine Estate, Inc. is a San Francisco Bay Area Company offering auction and consignment services.