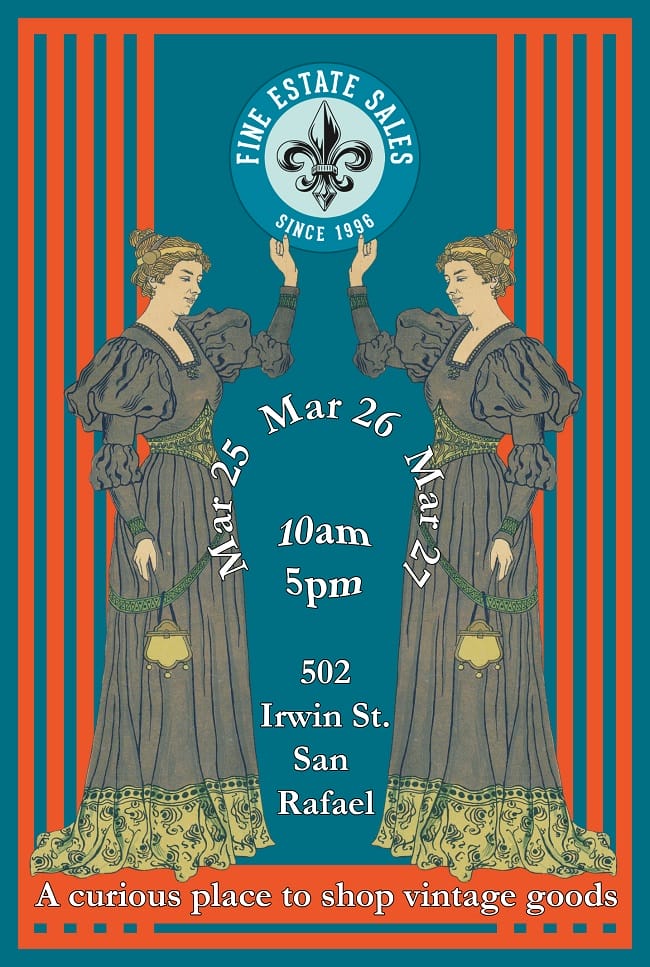 Fri. Mar. 25th - Sun. Mar. 27
10:00am - 5:00pm
502 Irwin St. San Rafael, CA.
Fine Jewelry: Just arrived! 2.82tcw Fancy Black Diamond Earrings with Certificate, 14K Gold Tanzanite, Set of Blue Lapis Jewelry, and Opal ring with Diamonds, 14K Pink Sapphire ring with Diamonds set in Rose Gold, 14K Hoop Earrings, Twisted hoop 14K Earrings, A collection of gold rings including a selection of 14k bands, two delicate 14k diamond rings, a 10k Masonic ring, a gold nugget stickpin, a clover pin, sterling silver bangle bracelets, a sterling silver pin pendant and earrings set with lapis, 14k South Sea pearl earrings, a Bohemian garnet ring, Italian sterling silver necklaces, a Native American ring and pin, a malachite necklace with matching earrings and as always, a lively grouping of fun and funky fashion jewelry.
Fashion Jewelry: Sterling Silver Bracelets from the Southwest, Mexico & Peru as well as a few examples from Afghanistan and North Africa, Many strands of semi precious beads.
Case Items: Gold Nuggets; Walking Canes; Collectible Stemware and barware; Many baccarat figurines, Impressive White porcelain Stag; Figural Stemware, Figural Decanter; Multiple Lenox Animals; Small Aurene Vase; Old Games; Old Boxes; Large and impressive inlaid wood Box; Art Glass; Many Steiff Animal Figures; Military and Aviation Headgear, some Bronzes, Many Antique Books, Two Tin Type Photo Albums; Bakelite Poker Chips
Sterling: We have an amazing assortment of sterling silver holloware, flatware and serving pieces, from both England and America including many examples with British Hallmarks, Gorham, Kirk, and Kalo…
Coins: New Coins have arrived including a collection of US coins, including Morgan Dollars and Silver Eagles, St. Gaudens, Indian and Liberty Gold Coins. Many in high grade slabs. Silver coins in varying denominations.
Asian Arts: Tall and impressive Chinese Ten Panel Screen with hard stone inlays; Several other Asian Screens both lacquer, and Bamboo; multiple Chinese Antique Altar Cabinets; Tall Chinese Kitchen Armoire; Two carved Camphor chests; Chinese style Lamps, and Rugs; Pair of Chinese Teak End tables; Contemporary Chinese Style End Table; Japanese Style Hand painted Nesting tables; Set of 6 Asian Chairs; Chinese Sideboard; Set of 4 Horseshoe Asian Chairs; 2 Carved Camphor Chest; Multiple fine examples of Japanese Woodblock Prints - Beautiful collection of 18th -19th Century Japanese Woodcuts by noted Artist Gotosei Enjaku, depicting the ever famous story of Genji from 400-450 years ago.These pieces are being displayed as Triptychs and are beautifully framed and matted
Fashion: A large selection of vintage clothing including cashmere and wool coats with velvet, beads, fur, and fringe details, a unique blue full-length Asian-style coat fully lined in Mongolian fur, an Asian black silk coat with silver butterflies by Cordial and a white trench coat by Yves Saint Laurent. Jackets include a beautiful vintage sheepskin, a vintage Mt. Diablo trophy school jacket, and a distinctive 80's suede/leather jacket with snakeskin and embroidery. Vintage Alpaca ponchos, skirts, and hats. Beautiful heavily embroidered dresses and ponchos from Guatemala, Mexico, and Nepal. Vintage dresses, blazers, skirts, and ponchos from the '50s, '60s, and 70's. A beautiful full-length kaftan from I. Magnin and a vintage dress by Waikiki Sports.Contemporary clothing: Johnny Was, Alice and Olivia, Reformation, Diane Von Furstenburg, Wolford, and many more including fun European designers. Beautiful Pashmina and silk scarves with fringe. Gianni Versace belt with a gold-tone Medusa buckle. Red knee-high boots by Frye and Dr. Martens. A fun pink floral robe with faux fur trim. Lots of unique and one-of-a-kind pieces.
Rugs: Many Hand Knotted Rugs from the world over…
Lamps: Table lamps, floor lamps and chandeliers
Furniture: Webbed "Bungee" Office Chair, Drop leaf Table, Contemporary Bar Server, Contemporary Bubble Glass Front China Cabinet, Mid Century Danish Wall Unit; 1980's Teak Wall Unit; Mahogany Urn Splat Back upholstered chairs; Pair of Henredon Black Leather wing back Chairs; American Oak Cabinet; Many Grandfather clocks; Empire Style Dresser; Victorian Dresser; American Maple Dresser; Pair of Chippendale Style Ribbon Back Chairs; Drum Table; Round Smoked Glass Coffee Table; Distressed finish Antique Empire Chair
Household and Decoratives
Household: Antique Quilt Silk Cigar Ties as its border. It is large and in charge and needs to be seen up close and in person to be truly appreciated; Many sets of china, including Heath, Limoges and Noritake; Collectibles; Books; LP's and Other Media; Bronze, Wood and Stone Figures; Household and Kitchen Items, Plus More
Outside Patio Area: White wrought iron set of Chairs, Chaise Lounge & Matching cart. Green Iron and Glass Outdoor stacking tables, Concrete Winged Goddess holding a bouquet of flowers, Pair of stone matching urns, Multiple sets of patio tables and matching chairs, including a set of four chairs with concrete cushions by A. Silvestri co. Antique Lantern, Concrete Columns, Potted Plants and some colorful glazed pots, plus much more.
Schedule Phone Consultations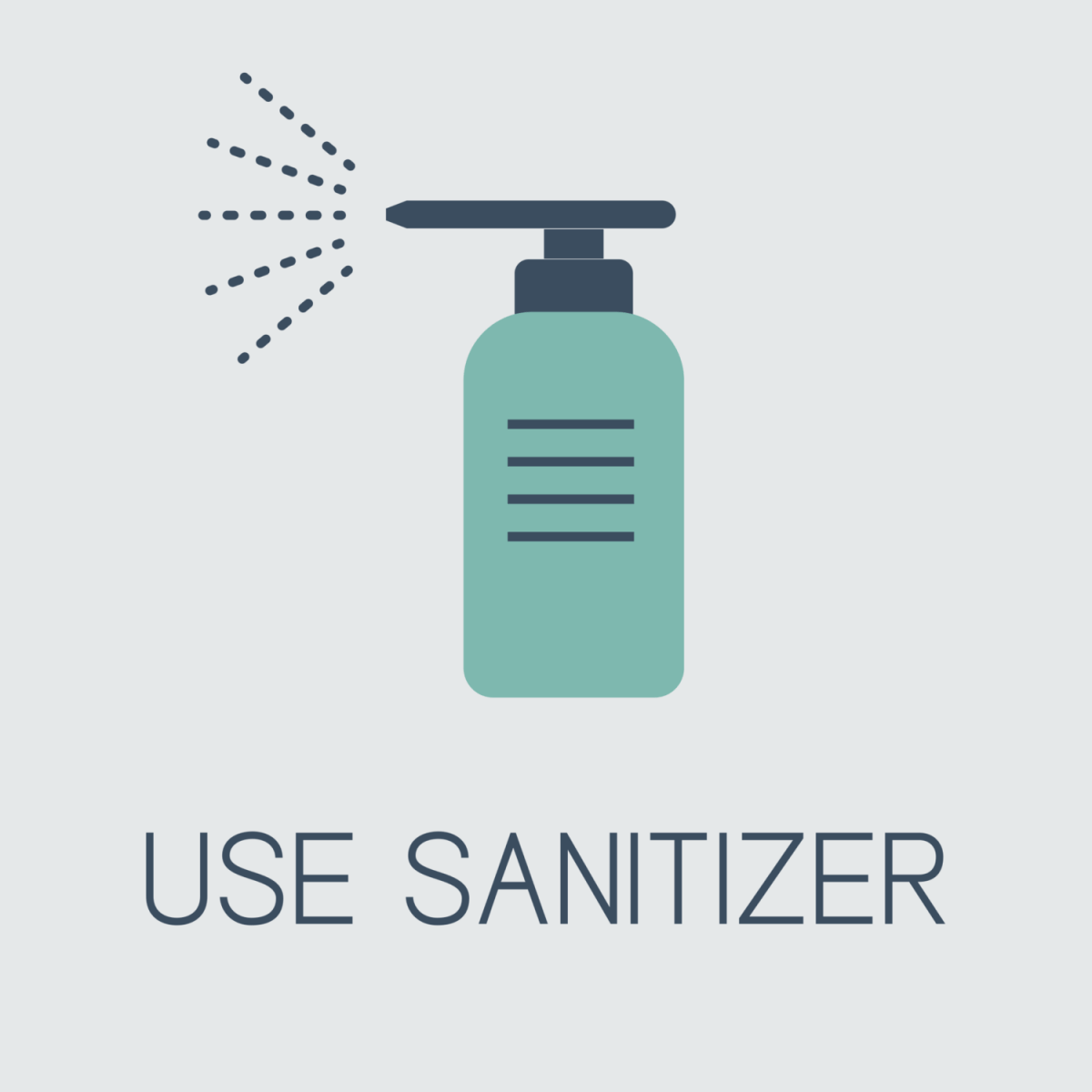 Contact US
Here you may fill out a contact us form or follow a link below to learn more about us.